Comcast Opens Door for Competitor
Comcast just keeps taking public-relations hits. The question is why.
by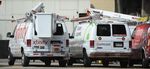 Not long ago in this space, I posted on Comcast's rapidly declining customer-service reputation. Since that time, I've heard from Comcast users who have their own unhappy stories to tell. Now comes news of a California man who is threatening a lawsuit, claiming that Comcast pressured his employer to fire him because of a lengthy billing dispute.