Zappos Chief Loses a Las Vegas Bet
Zappos chief Tony Hsieh's plans to revive downtown Las Vegas are coming undone.
by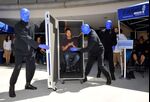 I had planned to make a pilgrimage next spring. After almost two years of putting it off, I was finally going to make the trek to Las Vegas to see the amazing new downtown that Zappos.com chief Tony Hsieh was inventing from of scratch. Like so many others, I was lured -- enchanted, even -- by the vision of the "Great American Techtopia," in which urban planning, tech innovation, art, music, and belief in community would come together to create the city of the future, blah, blah, blah.