What's Really Missing in North Korea
The truth is that no one knows where Kim Jong Un is. But one thing's almost certain: His country is facing renewed financial pressure. 
by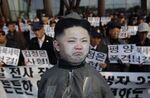 The world tends to roll its eyes at the verbal grenades North Korea tosses around so gleefully and indiscriminately, and rightfully so. Funny how we're all so scared now that Kim Jong Un has gone silent.