Is China's Bubble the Next Financial Crisis?
China's credit boom is running into diminishing returns.
by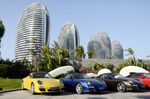 Will China be the source of the next global financial disaster? The evidence increasingly offers reason for concern, though the nature of any calamity could be very different from what the world endured in 2008.