What If They Never Find MH370?
Whether or not searchers ever find the wreckage of MH370, airlines need to start installing better tracking technologies soon. 
by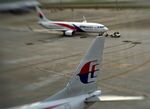 The search for Malaysia Airlines Flight 370 resumed Monday roughly 1,100 miles off the Australian coast. The task is daunting: Searchers are focusing on 23,000 square miles of seabed that had never been mapped in detail before this summer, at depths of up to four miles. Nonetheless, the Australian Transportation Safety Board, the agency leading the hunt, as well as airline safety experts have expressed cautious optimism that the plane will ultimately be found.