To Know Obamacare Is to Love It?
Why do relatively few Americans, regardless of political affiliation, feel the Affordable Care Act has helped them?
by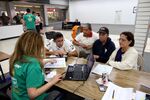 A Gallup poll released today confirms what anyone paying attention knows: The Affordable Care Act's successes aren't changing negative views on "Obamacare," including what people report about their personal experiences with health care. Yet the very characteristics that make Obamacare unpopular make the ACA safe from repeal.