view
Those Wacky South Dakotans
An independent candidate chips away at Republican's lead,
by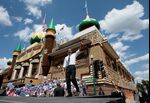 What's wackier than the Corn Palace? How about the Senate race in South Dakota, where former Republican Governor Mike Rounds' lead may be dissipating. The surprise is that the independent candidate, former Republican Senator Larry Pressler, has moved up sharply and may now be in a real three-candidate contest with Rounds and Democrat Rick Weiland.
Pressler won't say which party he would caucus with; in fact, he has suggested it might be neither (which is allowed, but might leave him without any committee assignments).
Meanwhile, election forecaster Sam Wang looks at the polling:
If the D in SD-Sen dropped out, Ind Larry Pressler would lead by 15 pts - more than Orman's August lead in KS
Well, maybe.
Even if you accept the possibility that Democrats would be willing to trade a sure member of their party for someone who might decide to resume being a Republican once in Washington, I'd be very wary of extrapolating from poll results to election outcomes.
If Rounds found himself in a head-to-head match with Pressler, he could unleash negative ads until Election Day with little worry about a backlash. And his large money advantage means there's a real chance those ads could make a difference. What's more, Pressler would soon find himself as the de facto Democrat whether he liked it or not, and South Dakota has more Republicans than Democrats.
The real danger for Rounds is that multicandidate races tend to be unstable. If Rounds attacks Pressler, Weiland might benefit; if Rounds attacks Weiland, Pressler might move up. Indeed, if Democrats believe that Pressler might caucus with them, the best play could be for Weiland to throw as much mud as possible at Rounds, in the hopes that both would be destroyed.
In what has been a low-intensity campaign, I wouldn't take "what if?" types of polls -- such as one seeking to determine voter preference if a candidate dropped out -- at face value. Polls are very good at finding out what people intend to do. But if respondents haven't thought about their intentions about something, it's very easy for polling to go wrong.
To contact the author on this story:
Jonathan Bernstein at jbernstein62@bloomberg.net
To contact the editor on this story:
Max Berley at mberley@bloomberg.net
Before it's here, it's on the Bloomberg Terminal.
LEARN MORE