Europe's Petrostates Fall Into the Oil Trap
The Netherlands wishes it had saved its hydrocarbon wealth. Norway is struggling to figure out where to put its own. 
by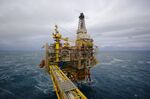 Countries with vast natural resource income have a choice: Spend the money or save it for later. As the Netherlands and Norway are discovering, both have their disadvantages.