Will Nobody Rescue Syria's Kurds?
The coalition to destroy Islamic State is not doing much to prevent its capture of the Kurdish town Kobani in Syria. The reason probably lies in Turkey.
by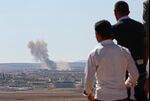 Islamic State forces have moved into parts of the Syrian town of Kobani, suggesting that a desperate defense by mainly Kurdish fighters will soon collapse. The town has been Islamic State's primary focus in Syria for weeks, yet the coalition has carried out few airstrikes to stop its advance. Why not?