For China, First the Waldorf, Then the World
The sale of the Waldorf-Astoria hotel to a Chinese buyer could herald a wave of Chinese acquisitions more disruptive than Japan's 30 years ago.
by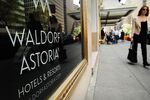 Last month, while holidaying in New York City, I happened upon the glare of a dozen live television cameras while walking past the Waldorf Astoria. The fuss was over Alibaba's investment roadshow, then unfolding inside the hotel's famed ballroom.