Samsung Is Condemned to Innovate
To keep making money in the mobile business, Samsung can only innovate.
by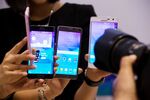 Samsung's warning that its third-quarter profit would be 60 percent lower than the record set a year earlier is a reminder of how hard it is to make money with Android smartphones. The company may now be forced to innovate just to keep from losing more -- which could be great for consumers.

Android has been a trap for mobile-phone manufacturers. It offered a chance to compete with Apple without investing in the development of an operating system or an app ecosystem, but too many companies were tempted.
Of the phone makers that joined the Open Handset Alliance with Google in 2007 -- including HTC, Motorola, Sony, Samsung and LG -- only Samsung has consistently made a profit. At Motorola and Sony, the losses have been steady and painful. HTC, which put out the first Android phone, is struggling: It recently reported a tiny profit for a second consecutive quarter, and that was only possible thanks to ruthless cost-cutting. LG broke even in the second quarter but may still show a loss for the year.

Samsung plowed money into research and development -- my colleague Katie Benner points out that its R&D budget is three times the size of Apple's -- and marketing. In the second quarter, its selling, general and administrative expenses reached $5.7 billion, twice as much as Apple spent in the same period. Innovation, omnipresent advertising and persistent work with sales channels made the Korean chaebol the world's biggest smartphone maker. Samsung hasn't been as profitable as Apple, but it showed that Android phones could be a viable business for a manufacturer with large financial resources.
Samsung's recipe for success should have discouraged others. It's hard to see what, apart from stubbornness and the reluctance to accept losses and move on, is keeping Sony, HTC and LG in the business. Those companies can't match the budgets of Samsung or even Apple, and they are doomed to keep swimming in what management theorists Chan Kim and Renee Mauborgne termed the Red Ocean, a market infested with competitors.
By staying on, the old entrants have overwhelmed consumers with too much choice and forced Samsung to keep spending. At the same time, new entrants with more inventive business models have emerged. Two of Samsung's biggest competitors, Huawei and Xiaomi, which already have bigger market shares in China, rely on word of mouth rather than conventional advertising. Last year, Huawei's selling, general and administrative costs amounted to 6.8 percent of sales, compared with 16.3 percent for Samsung. Huawei's mobile business is consistently profitable.
Xiaomi, a private company, discloses limited financial data, but it also eschews ads and relies on selling online rather than through cellular operators and stores. Nonetheless, it has developed a cult following.
Some Chinese manufacturers have taken the cultish approach further: The cheap, powerful and well-designed OnePlus handset can be bought only by invitation or through intermediaries. This month, the maker is supposed to scrap the invite system, but its "flagship killer" will only be available online.
Android, let's face it, is the choice of poorer consumers and geeks. Although price is the only meaningful determinant for the first group, guerrilla marketing and a buccaneer aura are important to the techie crowd. Apple is mainstream, OnePlus and even Xiaomi are not.
Samsung cannot play that game. There's no going back on the big-budget approach, even when it's faltering. It its third quarter guidance, Samsung explained:
Smartphone shipments increased marginally amid intense competition. However, the operating margin declined due to marketing expenses related to aggressive promotions and lowered ASP (Average Selling Price) driven by reduced proportional shipments of high-end models coupled with price decreases for older smartphone models.

Samsung has to keep running to stay in place. It must increase ad spending, cut prices and introduce new products. Competition has forced it to focus on design with the Alpha handsets, which are as attractive as the new iPhones, and it's about to release offerings such as the Galaxy Note Edge and a virtual reality headset, developed jointly with Facebook's Oculus.
Samsung has the resources to fight on, and may surprise both technologically and financially.
This column does not necessarily reflect the opinion of Bloomberg View's editorial board or Bloomberg LP, its owners and investors.