view
Hewlett-Packard Teaches Yahoo a Lesson
Hewlett-Packard move to split into separate hardware and software companies might serve as an example for what Yahoo needs to do.
by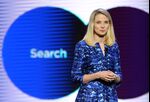 Facebook and Google are the touchstones for Marissa Mayer's all-new Yahoo!, most recently evidenced by speculation that her company will make a venture investment in the trendy disappearing message app Snapchat.
But Mayer could learn a lot from Hewlett-Packard too, even though the companies are in radically different businesses. One of the many cautionary tales to come out of H-P is the damage done when a company protects a sacred cow for too long. For H-P, it was hardware; for Yahoo, it's the company's investments in Alibaba and Yahoo Japan.
When H-P's Chief Executive Officer Meg Whitman decided to spin off the PC and printer business, she tacitly acknowledged that hardware was a slowing down a company that should have gone aggressively into services and software years ago. But over the past decade, the company depended on acquisitions and aggressive cost-cutting to grow, while innovation and risk-taking fell by the wayside. The company missed out on trends like mobility and the cloud; and it overpaid on deal after deal.
Through it all H-P relied heavily on hardware for stability, revenue and size. The division made H-P a huge company (it was a $41 billion business when Leo Apotheker was CEO and it will be a $55 billion company after the spin off), and it provided some cover for years of bad management. But its usefulness as a cushion lessened as margins narrowed and sales flatlined or declined, and the time and energy spent defending and expanding in hardware was bad for H-P. Apotheker, chief executive officer until 2011, understood that the company needed to let go of hardware, but he was a weak leader and his attempt to sell it failed.
Yahoo doesn't have hardware, but it does have lucrative investments in two Asian companies: the online retailer Alibaba and the Internet portal Yahoo Japan. (Reports of a minority investment in Snapchat feel like an attempt to turn Yahoo into a tracking stock yet again.) My worry is that Mayer will focus too much on protecting those investments at the expense of Yahoo itself, and that the rest of the company will suffer.
I realize that H-P's hardware division isn't a perfect analogy. Hardware is a shrinking industry, whereas Alibaba and Yahoo Japan have bright futures. But the Asian assets make Yahoo big and expensive to buy, just as hardware made H-P big and unwieldy. And if Yahoo's core advertising business doesn't perk up soon, those investments will lose their protective power. Should that be the case, investors will push Mayer to sell those positions little by little to pay out dividends and buy back stock to keep a howling pack of angry investors at bay. The protective buffer will shrink.
Yahoo's Alibaba shield started to deteriorate when the retailer went public in September and Yahoo had to sell half of its Alibaba stock. Investors are already pushing the company to sell its remaining 12.5 percent stake. They want Yahoo to return all of the cash from the sales in the form of dividends and buybacks.
Meanwhile, there are various tales of a Yahoo sale flying around, in part related to the question of what to do about the company's assets in Asia. My colleague Matt Levine suggested weeks ago that Alibaba buy Yahoo (essentially using Yahoo's own cash and Alibaba shares), generate a small profit for shareholders and spin it back out or sell it. Hedge funds and banks are out there speculating that Japan's Softbank wants to buy Yahoo. (It would be pretty hard to pull off, given that Softbank would then have a majority stake in Alibaba.) Some are hoping that Yahoo sells its Asian assets and uses the money to go private. Activist investment firm Starboard is pushing Mayer to break up the company.
It feels like Mayer is sticking her fingers and toes in the holes of a leaky dike, but pressure to give shareholders the cash from Alibaba and Yahoo Japan is more than she can hold back. I say give them the money, create some shareholder goodwill and take that distraction off the table. Then get down to the real, ugly work of a turnaround. That means layoffs and shoring up digital and programmatic ads. It means figuring out why additional users from Tumblr haven't increased advertising revenue, then fixing the problem or writing off Tumbler. It means being decisive about what Yahoo's future businesses will look like, instead of hoping for an aha-moment that saves the company.
To contact the author on this story:
Katie Benner
To contact the editor on this story:
James Greiff at jgreiff@bloomberg.net
Before it's here, it's on the Bloomberg Terminal.
LEARN MORE