The BRICs Will Rise Again
Yes, emerging markets have stumbled, but that doesn't mean those countries are regressing to the crisis-prone world of old. 
by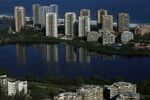 The downward revision of growth projections for emerging economies by the International Monetary Fund and the World Bank is yet another reminder of how quickly the narrative has changed for these countries. This reversal has led to selloffs in emerging-market assets, be they equities, currencies or fixed-income. Countries that not so long ago were deemed an influential locomotive for global growth (as well as a contributor to global financial stability) are now viewed more as a source of actual and potential disruptions.