Brazil's 140 Million Voters Deserve More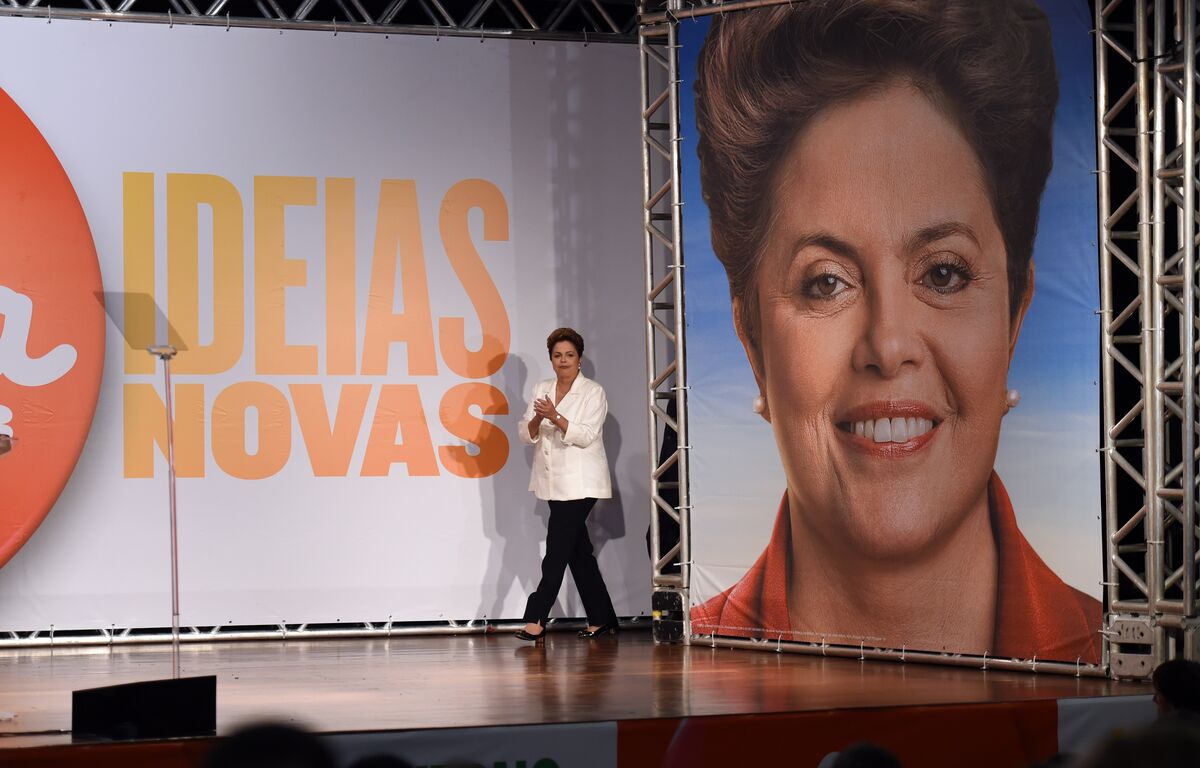 Brazilians are still waiting to hear what those ideas are.
Brazil clearly has an appetite for change. In the first round of its presidential election, more than half of voters cast ballots against President Dilma Rousseff. Unfortunately, in the three weeks to go before the final round, they're likely to be served up the political equivalent of a mud sandwich.
Rousseff is now in a runoff with Aecio Neves, the former governor of Minas Gerais -- with Marina Silva, the environmental activist who at one point enjoyed a lead in the polls, out of the running. So the campaign will be fought along familiar lines, with Rousseff's Workers Party squaring off against Neves's Brazilian Social Democracy Party, which held the presidency from 1995 to 2003. This pits Brazil's poorer and more sparsely populated north, supporting Rouseff, against the south, home to investors and industrialists, who prefer Neves. Victory depends on winning over Silva's hodgepodge coalition, which includes evangelicals and neoliberals as well as environmentalists and disaffected leftists.
A clear choice, one might think -- except that of the two candidates, only Neves has put out anything resembling a platform, and his came in dribs and drabs. Rousseff has offered vague "new ideas" to restart Brazil's faltering economy, even as she has pumped up spending to court voters. Neves, for his part, has pandered with ad hoc promises to increase the minimum wage and pension benefits and create new income tax exemptions.
In place of concrete proposals, Rousseff will no doubt engage in cynical attacks -- much as she did before the first vote, when she alleged that Silva's sensible pitch to make Brazil's central bank independent would gut social-welfare payments and take food from the poor. Look for Rousseff's campaign, led by one of Brazil's sharpest political operatives, to paint Neves as an out-of-touch elite beholden to fat cats and banks. And expect Neves, in return, to make the most of the scandals that have scarred Rousseff's reputation -- most recently, charges of bribery and kickbacks at Petrobras, Brazil's state-owned oil company.
What Brazil needs instead is an honest debate about how to revive its fortunes. Its economy entered a recession in the first half of this year; its currency has fallen 33 percent since Rousseff took office; its credit rating has sunk to just above junk status; business confidence has hit its lowest level in a decade; inflation is running higher than the central bank's targeted rate; and investment and productivity continue to lag. Petrobras, once hailed as a model, has lost half its market value since 2007 and staggers under the burden of subsidies and political diktats. Even Brazil's vaunted progress toward reducing its extreme economic inequality is beginning to wane.
The changes needed to jump-start economic growth pose thorny political challenges: taking a machete to the world's most complicated tax regime, for instance, or revising rigid labor laws that mandate everything from the provision of breakfast and collection of union dues to overtime pay for answering work e-mails after hours.
Even more daunting is the challenge to make Brazil's popular and generous social-welfare system more sustainable. The country already spends more than 10 percent of its gross domestic product on its pension system, which is ranked second from last among 51 countries in sustainability, thanks to its low retirement age and an expected tripling of the elderly population in the decades ahead. Even the much-praised Bolsa Familia program of cash payments to the poor needs reform: A new World Bank study found that a considerable number of recipients had incomes above the eligibility levels, and Brazil's own federal auditor has criticized the program's lack of controls and transparency.
Such changes will require courage and vision. An ability to listen wouldn't hurt, either. Several times in the past two years, millions of Brazilians have taken to the streets to protest corruption, poor public services, rising prices and unmet expectations. Now, almost 18 million more have voted against a sitting president than voted for her. That's a message any politician ought to hear.
--Editors: James Gibney, Mary Duenwald.
To contact the editor on this story:
David Shipley at davidshipley@bloomberg.net