view
Allergan Is Open to Alternatives That Aren't Valeant
Allergan is offering sort of a weird lesson in M&A jargon: It's trying to fend off a takeover by promising to consider "strategic alternatives."
by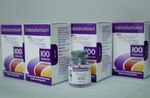 A well-worn piece of mergers and acquisitions jargon is "strategic alternatives." As a company, you're not really supposed to say, "We're trying to sell ourselves," because if you don't find a buyer then you look a bit desperate. But you can say, "We're exploring strategic alternatives," which means the same thing, because if you end up not finding a buyer you can conclude that your exploration of strategic alternatives led you back home, to the strategy that was right there with you all along. M&A jargon is sort of silly.
You might recall that Allergan is trying, with enormous vigor, not to sell itself to Valeant and Pershing Square. Part of that effort -- besides all the lawsuits -- involves a proxy fight, in which Valeant and Pershing are trying to replace a majority of Allergan's board of directors with their own nominees at a December shareholder meeting. Allergan filed its proxy statement this morning, and it says this:
Your Board strongly believes that the prudent course of action is for Allergan to focus on its operational excellence and extending its exemplary track record of substantial growth that your Board is confident will create significantly more value for stockholders than Valeant's unsolicited, conditional exchange offer. Your Board has successfully pursued, and continues to pursue, a number of key initiatives to increase stockholder value. These include execution of our restructuring plan in the remainder of 2014 that we expect will deliver annual pre-tax savings of approximately $475 million beginning in 2015, continuing to meet our increased guidance and projections, which include expected compounded annual non-GAAP diluted earnings per share growth of more than 20% and free cash flow of approximately $18.0 billion, and consideration of acquisitions and strategic alternatives that increase stockholder value.
Emphasis in the original, but I'd emphasize that last bit: "consideration of acquisitions and strategic alternatives that increase stockholder value." That is a weird thing to say! Does it mean that Allergan wants to sell itself?
Probably not? That is the standard jargon interpretation, but not after all the dictionary meaning of those words. The rest of the paragraph is about the "focus on its operational excellence," that is, keeping on doing what Allergan is doing, without interference from Valeant. The "Background" section of the proxy makes no mention of any sort of strategic-alternatives process. And even the strategic-alternatives bit is "consideration of acquisitions and strategic alternatives," meaning that what Allergan might actually want to do is buy another company to fend off Valeant. 1
But the "strategic alternatives" code is nonetheless interesting. One way to read it is as a signal to shareholders that Allergan's current board is open to considering a sale, despite having rejected Valeant's bid and, apparently, another bid from Actavis. They're happy to do a merger, just as long as it's the right merger.
A willingness to sell is obviously appealing to some people. Allergan calls Pershing Square "a stockholder with specific short-term interests that are not aligned with the interests of all of our stockholders," but on the other hand Allergan's stock is up 28 percent since Pershing Square announced its and Valeant's interest. That means someone has been selling, and someone else has been buying, and the people who are buying are probably more interested in a sale of Allergan than they are in its standalone business plan. (If they were interested in the standalone plan, they could have bought it much cheaper in April!) Shareholders, as a class, are shorter-term than managements would like them to be. 2
So one possible interpretation of the "strategic alternatives" language is: Allergan's board is worried that it might lose this proxy fight, and thinks that hinting that it might sell the company will help it get some votes from shareholders who want to sell but are willing to trust the board to find the right buyer.
But of course there's a downside to dropping that hint, which is that if you say you're considering selling the company, you probably should do something about that. Otherwise shareholders might end up a little miffed. If you're not selling the company, you pretty much never have to do anything that shareholders want. Courts are extremely deferential to boards' decisions about most matters, including fighting off takeovers. When it was rumored that Allergan was going to buy Salix for cash, without a shareholder vote, in order to thwart Valeant's bid, Ronald Barusch pointed out that it could do just that: "Allergan's board is almost certainly getting advice from its lawyers that it is required to do what is best for shareholders, even if most of its shareholders disagree with its analysis." And that analysis -- which would come down to thinking that Allergan is worth more as an independent company (that owns Salix) than Valeant is offering -- is hard to definitively disprove. Valeant's offer is worth around $177 right now. Some analysts have target prices on Allergan as high as $240. Maybe it's worth more on its own. Maybe it's worth even more with Salix.

But once a company is for sale, the board is more constrained. For instance, if you're selling yourself for cash in Delaware, 3 you have to sell yourself to the highest bidder. That bidder's rapaciousness or unpleasantness or nefarious plans for your business don't enter into it: If your shareholders are just getting cash, you need to get them as much cash as possible. And if Allergan is putting itself up for sale, it's going to be harder for it to argue that Valeant's premium bid undervalues the company. Unless, you know, it actually goes out and get a higher bid.
On the other hand, Allergan isn't putting itself up for sale. That's just one of several things it's considering; tacking on "strategic alternatives" at the end of a paragraph about remaining independent is not quite the same as leading with it. Also, if you're doing a transaction for stock, or for a mix of cash and stock, you have a lot more flexibility than if you're selling yourself for cash: Your shareholders will end up with a stake in the continuing business, and you can exercise some judgment about the value of that continuing business. 4 Which is convenient for Allergan, since Valeant is offering a lot of stock, and since Allergan has been arguing for months that the problem with Valeant's bid is not just its dollar amount but Valeant's inherent riskiness and immorality. 5 Even if Allergan is for sale, its board can argue that Valeant's $177-ish cash and stock bid is not really worth $177, since Valeant's stock is not worth what the market says it's worth. This is not always an overwhelmingly compelling argument to shareholders -- who, after all, can just sell that stock for cash -- but it works pretty well on judges.
Still, this is a bit of a crack in Allergan's defenses. Until now, Allergan has argued both that shareholders should want it to remain independent, and that Valeant's offer is inadequate both on its face and because Valeant's stock isn't worth what the market says it's worth. And it's still arguing that; the proxy is full of glowing references to Allergan's "promising outlook," "future prospects" and "five-year strategic plan." But that argument is not as absolute as it used to be. Allergan still thinks that a deal with Valeant is the wrong alternative for shareholders, but it's willing to consider -- or, at least, to tell shareholders that it's considering -- that some alternative other than independence is the right plan.
To contact the author on this story:
Matthew S Levine at mlevine51@bloomberg.net
To contact the editor on this story:
Zara Kessler at zkessler@bloomberg.net
Before it's here, it's on the Bloomberg Terminal.
LEARN MORE