The Coming Real Estate Glut
The real estate markets in New York and Washington aren't over 2008.
by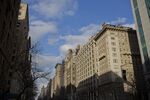 If you're a reader of the New York Times, or any real-estate site that focuses on the Big Apple, you have probably spent some time over the last few years marveling about the city's seemingly infinite demand for eight-figure apartments. Well, apparently even developers are starting to wonder if this can last. They're downsizing their ambitions to smaller units that go for a dainty seven figures, or shifting out of residential development entirely.