We Can't All Be Pro Squash Players
Following in the footsteps of George Plimpton -- not to the football field, but the professional squash court.
by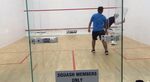 Remember George Plimpton's classic book, "Paper Lion"? In the 1960s, Plimpton decided to find out what would happen if an ordinary person tried to play professional football. Amazingly, the Detroit Lions agreed to give him a tryout, allowing him to come to training camp as a third-string quarterback.