If Chicago Bleeds, It Leads
Why Chicago's homicide rate looms large in the news.
by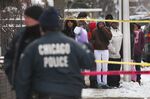 As I believe I've mentioned, I'm at the Institute of Politics at the University of Chicago for a few months, running a seminar on why legislation so rarely looks like what voters expected after hearing about it on the campaign trail. Naturally, my interest has been piqued in Chicagoland news. Like this weekend's shooting spree. Which made me recall what I'd been reading about a homicide spike in Chicago.