FireChat Is Bigger Than the Hong Kong Protests
FireChat, the messaging app that has helped organize the Hong Kong protests, is part of a bigger revolution: the liberation of bandwidth from institutional gatekeepers.
by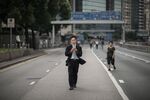 After all the reports of Russian hackers colluding with the Kremlin to disrupt JP Morgan, it's refreshing to see an ingenious piece of Russian-developed software powering the Hong Kong protests. The app, called FireChat, grew out of network engineer Stanislav Shalunov's quest to find ways to use bandwidth more efficiently, and it's just the beginning of a technological path that could change the way we understand connectivity.