Disney Kicks the Can in Europe
Walt Disney is bailing out its European franchise again. It would make sense to reconsider its strategy first.
by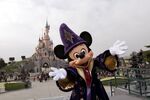 The Walt Disney Co. is following what has become a European tradition in its fourth rescue of its troubled theme park near Paris: opting for a bailout instead of solving the problem.
Disneyland Paris has been a burden since its inception. Built mainly with debt financing, it required its first bailout -- from Saudi Prince Alwaleed, who still owns 10 percent of the venture -- just a year after opening in 1992, right before a recession. Alwaleed kicked in again in 2005, after Euro Disney, the park's operator, opened a movie-themed Studios Park in 2002, a time when the events of Sept. 11 had left half the world scared to fly. Two years ago, Walt Disney led another rescue after new Chief Executive Officer Philippe Gas sought to move upmarket in the wake of the global financial crisis.
The company stuck with the strategy spearheaded by Gas, who boasted of a 4 percent increase in spending per guest in 2013 even as revenue dropped 1.1 percent. This year, Euro Disney is expected to suffer a roughly 5 percent decline in visitors and lose 120 million euros, compared with 78 million euros last year. Gas's replacement, Tom Wolber, has blamed the poor performance on "a bad economic environment and heavy debt" -- a weak excuse given that U.K.-based Merlin Entertainments, Europe's biggest theme-park operator and the global No. 2 after Walt Disney, increased revenue in continental Europe by 10 percent to 307 million pounds ($490 million) in 2013 and has managed to keep visitors coming to the European Legoland resorts it runs.
Disney knows better than most how to convert movie successes into theme-park magic. Lego has only one cinematic success, and a moderate one at that: "The Lego Movie," released this year, has grossed only $468 million, compared with $1.27 billion for Disney's "Frozen." Euro Disney seems to hold all the cards: a location near one of the world's most visited cities, a host of popular characters, the experience of a wildly successful U.S. parent -- and it still needs excuses to explain why it is performing worse than the Legoland franchise.
Walt Disney's latest bailout will undoubtedly help: By converting 600 million euros of debt into equity, it will reduce the company's debt burden to less than 1 billion euros. Still, it won't make Euro Disney profitable. Last year, the company's net loss exceeded its interest expense.
Having taken kids both to Disneyland Paris and to Legoland in Bavaria, I am pretty sure the French operation's problems have less do to with the poor economic environment than its executives would like to think. Legoland has shorter lines, more reasonably priced food, and its size is more manageable for young children. The usual theme-park hustle for extra fees is less pronounced there, too. It's a better weekend trip.
Euro Disney's biggest problem is a chronic case of megalomania that cosmetic measures aren't likely to fix. To be successful, it might need to open a number of smaller locations, the way Merlin has been doing.
If the U.S. parent company had to step in and bail out Euro Disney, in a move that has triggered a plunge in the European company's stock, it should have at least announced a new strategy for the business. As it is, Euro Disney will just keep rolling until it needs another bailout.
This column does not necessarily reflect the opinion of Bloomberg View's editorial board or Bloomberg LP, its owners and investors.