Apple Sapphire Supplier Breaks
by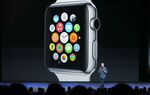 Here's a boring couple of sentences:
The prepayment installments from Apple may also be cancelled prior to payment, or repayment accelerated, under certain circumstances, including if the ASF systems do not generate sapphire material to specification prior to an agreed upon date or we are unable to comply with certain financial requirements. Finally, if the repayment of the Prepayment Amount were to be accelerated, it would likely produce a cross-default under our 3.00% Convertible Senior Notes due in 2017, or the 2017 notes, and our 3.00% Convertible Notes due in 2020, or the 2020 notes (correspondingly, an acceleration of the 2017 notes and 2020 notes would likely produce a cross-default under the Prepayment Agreement), and we may not have sufficient resources at such time to satisfy these obligations.

That's from a risk factor in GT Advanced Technologies's annual report. Basically the story is that Apple loaned GTAT a bunch of money -- call it $439 million 1 -- so that GTAT could get to work producing sapphire to put into Apple products, 2 and GTAT planned to pay that money back in the form of discounts on the sapphire over five years starting in 2015. But there was one tiny flaw in GTAT's plan, which was that Apple could demand all the money back, in cash, at any time, including right now, "under certain circumstances." And GTAT didn't have the money.
Those "certain circumstances" are not, let us say, spelled out with crystal clarity. Here is the heavily redacted agreement that GTAT filed publicly; you'll notice that most of the circumstances have been replaced with "[***]." 3
Today [***] seems to have occurred. GTAT filed for bankruptcy this morning, for reasons that are a little mysterious but that everyone assumes came down to Apple being displeased with GTAT. 4 The press release puts a brave face on it -- saying that bankruptcy "provides us with the opportunity to continue to execute our business plan on a stronger footing, maintain operations of our diversified business, and improve our balance sheet" -- but all in all you'd have to say that today was a [***] day for GTAT. Here, have a stock chart: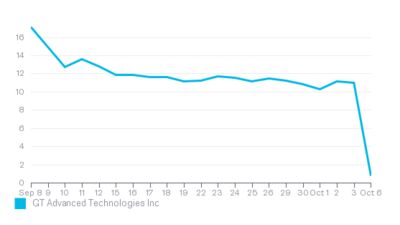 One obvious lesson here is, don't sign any agreements that might let your customer take all of your money if that customer is unhappy with you! Or more than all of your money: GTAT had about $85 million of cash as of a week ago, but now has to come up with $439 million for Apple, plus $434 million of convertible bonds. 5 So GTAT had at least $873 million of debt, all of which was about to become payable immediately, 6 and $85 million to pay it off with. That's pretty much what bankruptcy is for.
Of course that obvious lesson is a dumb one. GTAT's contract with Apple is, by most reasonable standards, terrible. GTAT is obligated to produce a minimum amount of sapphire for Apple (at an Apple factory), but Apple is under no obligation to buy any -- and GTAT has exclusivity obligations, so it might not even be allowed to sell to anyone else. And even if no one buys the sapphire, GTAT still has to pay back the money Apple advanced. 7 It's an awful deal. You'd only do this deal if, you know, you were a small sapphire company offered the chance to build stuff for Apple. GTAT took a reasonable but risky gamble on its Apple relationship. That gamble seems to have failed. That happens. But it hardly means that the next potential supplier will turn down Apple.
This morning I mentioned the Wall Street Journal's love letter to convertible bonds, which are great. One reason that they're great is that they are meant to work as a bet on volatility, which GTAT has had a lot of recently. On Thursday, when they last traded, GTAT's two series of convertible bonds were trading at around 157 and 108 cents on the dollar, 8 giving them a total value outstanding of about $578 million. Today they trade in the 30s, having lost over $400 million of market value. If you just held the convertibles, you lost, y'know, most of your money. 9
But if you were a hedged convertible investor, you did a little better. Convertible arbitrage investors would have hedged their convertible investment by selling short some of the underlying stock -- on my super rough math, about 90 percent of that stock. 10 Their bonds lost 70-80 percent of their value overnight, yes, but the underlying stock lost over 90 percent of its value. Any convertible holders who were hedged seem to be pretty close to breaking even. 11 So I guess another lesson is that a good way to invest in companies that are binary gambles is to buy their convertibles. But that might be a dumb lesson too; after all, hedging your binary gambles takes most of the fun out of them. If you bought the convertible and shorted the equity, you didn't get to enjoy the ride up nearly as much as the stockholders did.
One more lesson is ... I don't know, something in the vein of "never trust companies"? Here is GTAT's last earnings call. Here's the first question and answer:
Brian Lee - Goldman Sachs

Hey guys, thanks for taking the questions. Just from, first off, how should we think about the level of cash burn for 3Q and 4Q and do you see the need to raise additional capital to get Arizona scaled up to targeted operational efficiency. And then I have a follow-up.

Tom Gutierrez - President and CEO

As our guidance for the year suggests I mean we are expecting to end the year with approximately $400 million of cash on the balance sheet. And as you know from prior history, this business really starts to generate the cash once the order flow and the revenue flow starts to move. So at the moment, okay, we don't expect need to go out into the marketplace to raise additional capital
That was two months ago. Needing to raise additional capital is not great, but it is an order of magnitude better than filing for bankruptcy. And since then ... GTAT has never exactly taken that back? In mid-September, it announced a somewhat ominous Sept. 29 conference call "to provide a business update"; later it postponed that call until this week. The update seems to have arrived, and it's [***].
Despite the ominous rumblings, today's filing seems to have come entirely out of the blue. I mean, it's certainly understandable that GTAT didn't want to update its investors with detailed information on the exact state of its Apple negotiations. That might have invited competitors to pounce, and shown weakness to Apple. And GTAT, to be fair, provided a generic preview of what might go wrong. It's right there in that risk factor. But exactly how things could go wrong, and how close those things were to happening, took the market entirely by surprise. GTAT seems to have had as much trouble managing its investors' expectations as it did managing Apple's.
To contact the author on this story:
Matthew S Levine at mlevine51@bloomberg.net
To contact the editor on this story:
Zara Kessler at zkessler@bloomberg.net
Before it's here, it's on the Bloomberg Terminal.
LEARN MORE