Warren Buffett, Risky Car Salesman
Warren Buffett's push into the auto sector might make sense for his investment portfolio. But that doesn't mean it makes sense for yours.
by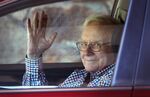 Wherever Warren Buffett goes, investors follow. Such is the power of the Oracle of Omaha's reputation. True to form, Berkshire Hathaway's recent purchase of the Van Tuyl car dealership group has pushed up the share value of other large dealership companies. Some of these new investors may simply be front-running Buffett, buying up equity in dealerships they think Berkshire may acquire. But for anyone who thinks now is the best time to buy into car dealerships, a quick reality check may be in order.