The Cost of Cleanliness
If India's Narendra Modi really can clean up the country, he could add as much as a percentage point to GDP growth. 
by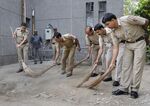 Last week, India's Prime Minister Narendra Modi shared a stage with actor Hugh Jackman in New York's Central Park at the Global Citizen Festival concert. Breaking from his usual practice of speaking in Hindi, Modi spoke in English for seven minutes largely about the importance of sanitation and cleanliness. In fact, his frequent calls for India to provide all its people with access to toilets -- which half of them currently lack -- are what had earned him the invitation in the first place.