Nothing Grows Forever, Including the Stock Market
A. Gary Shilling raises five more cautionary flags about the U.S. stock market, which he says may be peaking.
by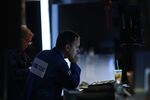 Major stock indexes may be at or near all-time highs, yet I see a number of warning flags for equities. Yesterday, I examined four of them: high price-to-earnings ratios, slow economic and corporate-revenue growth, earnings growth driven by unsustainable cost-cutting and low interest expense, and the end of Federal Reserve stimulus. In today's column, I examine five more caution signs.