view
Friday Baseball Blogging: In Defense of the Wild Card
Baseball's wild card games are random and unfair. But that's OK.
by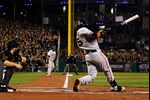 Over at FiveThirtyEight, Neil Paine totally misses the point in railing against the wild card game:
Tuesday's [Royals-A's] game once again brought to the forefront the issue of letting a single do-or-die game determine a team's postseason fate in this era of expanded MLB playoffs. Critics have noted the inherent unfairness of a six-month, 162-game regular season boiling down to one game. ... This isn't to say the extra randomness inherent to a single baseball game doesn't make for a more entertaining MLB postseason. It does, however, lend credence to the argument that the "footballification" of baseball injected an element of disarray into its playoffs. Statistically, the one-and-done format is better suited to the NFL than to MLB.
He's absolutely right about this particular game. In fact, he tremendously discounts the randomness and the unfairness of the wild card game. After all, it was hardly fair that the Pittsburgh Pirates had to dig deep into their rotation for a wild card game starter because they were contesting to win the division through the last day of the season, while the San Francisco Giants were able to use Madison Bumgarner because they had fallen far enough behind the Los Angeles Dodgers to no longer have a chance as the season ended. In this case, it wasn't a question of fairness because both the Pirates and Giants finished at 88-74. But one of these years, we'll have two 100-plus game winners go down to the wire in a division, with the loser exhausted and having to host a fresh, rested team that finished 10 or 15 games behind.

Here's the thing: Yes, the wild card game is random and unfair. But that's OK. The game isn't about the two teams playing, it's about competitive baseball in September. The double wild card meant that National League Central and American League Central races were exciting. It will mean, one of these days, that we finally get another thriller like the division race between the Atlanta Braves and Giants in 1993, the last year that winning the division was an all-or-nothing proposition. Most important, it means that we won't have a fiasco, like when two division rivals meet on the last weekend of the season and no one cares because both teams were resting their best players for the postseason.
So, yes, the wild card game is unfair to the higher-seeded team. That's all right because winning the division should mean something and no team should be satisfied with being second-best. Granted, it's not ideal, but it sure beats the system it replaced.
To contact the author on this story:
Jonathan Bernstein at jbernstein62@bloomberg.net
Before it's here, it's on the Bloomberg Terminal.
LEARN MORE