ECB Drops Anchor as Deflation Looms
Mario Draghi's comments, in combination with his favorite inflation measure dropping to a record today, suggest it may already be too late for the ECB to avert deflation  -- and he knows it. 
by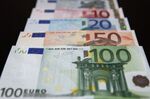 European Central Bank President Mario Draghi has disappointed investors and economists by failing to detail the size of the expansion he's seeking in the central bank's balance sheet. This much is clear from today's investment bank research reports. Parsing Draghi's comments from yesterday, as his favorite inflation measure fell to a record today, raises the chilling prospect thatit may already be too late to avert deflation in the euro region -- and that he knows it.