China's Reputational Risk in Hong Kong
One way or another, how China brings the protests in Hong Kong to a close will determine its reputation in all of Asia. 
by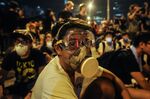 China views the fate of Hong Kong as a purely internal affair. But how its leaders resolve the ongoing confrontation on the streets of the former British colony will determine China's external reputation for years to come.