Are the JPMorgan Hackers Just Hiding?
JPMorgan says the hackers that broke into its computer systems didn't get the most sensitive information, though it's possible the cyber-crooks are just laying low.
by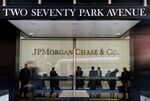 When hackers broke into JPMorgan Chase's computer systems they nabbed name and contact information for 83 million households and small-business accounts.