A Russian Billionaire's Delusions of NBA Wealth
Could Mikhail Prokhorov be looking to cash in on the Donald Sterling bump by selling off all or a portion of his stake in the Brooklyn Nets?
by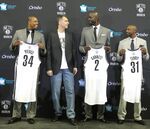 Could Mikhail Prokhorov be looking to cash in on the Donald Sterling bump?
NetsDaily reports that the Russian mogul is in "ongoing discussions" to sell some of his majority stake in the Brooklyn Nets to Guggenheim Sports and Entertainment Assets, which owns the Los Angeles Dodgers. It's unclear how advanced those talks are, and according to NetsDaily, any potential deal would be a "combination of assets" that would still allow Prokhorov to maintain his controlling stake in the team. His business partner, Bruce Ratner, would also keep his majority share in Barclays Center, the team's arena.
Prokhorov owns 80 percent of the Nets, which he purchased in 2010 for $223 million, as well as 45 percent of Barclays. He could expect a healthy return on his investment, thanks to Steve Ballmer's whopping $2 billion purchase of the Los Angeles Clippers after the Sterling's racism scandal. Insiders disagree on the numbers: The arena is valued at $1.1 billion, while the team's value has been pegged at anywhere from $1.2 billion to $1.7 billion. (For what it's worth, ESPN's Darren Rovell, who reported some of these numbers, remains skeptical of their accuracy.)
The team's valuation isn't the only sketchy detail: ESPN reports that contrary to NetsDaily's information, a source indicates Prokhorov might be willing to relinquish his majority control of the Nets.
ESPN also notes that after Ballmer's purchase, "some owners are suddenly delusional about the value of their teams." To be fair, the Nets benefit from the largest television market in the country and an arena that topped the U.S. in ticket sales last year. The team also lost $144 million in basketball-related business last season, while the arena's $26 million in operating income in its first year is only about a third of the $76 million its operators projected before construction. Forbes' most recent NBA team valuations, conducted before the Clippers sale, put the Nets' worth at $780 million.
If Prokhorov is shopping his entire stake in the team, there's an outside chance it might signal his larger political ambitions. In May, he announced his intention to move his company to Russia, which prohibits candidates from holding foreign assets.
But it's much more likely that he's simply looking to capitalize on the enormous profit he stands to make from an as-yet unprofitable team.
While Prokhorov largely has Sterling and Ballmer to thank for that, he might want to extend some gratitude to the New York City taxpayers who helped fund the Barclays Center's construction. The city admits to $179 million in direct subsidies for the arena's land and infrastructure, which might actually be a low estimate based on undervalued and uncounted land. The project also received $100 million in tax-free bonds from the state. Journalist and Atlantic Yards watchdog Norman Oder estimates that the city lost at least $180.5 million in opportunity costs from the arena's unpaid property taxes. The city's Independent Budget Office estimated that the total public subsidies amounted to $726 million.
City officials counter by noting that the arena generated about $14 million in tax revenue in its first year and created $251 million in economic activity in the area. Critics point to the arena's failure to live up to its promise to provide adequate jobs to locals. According to DNAinfo's Leslie Albrecht, of the 2,000 positions created at the arena, only 100 are full-time, and the rest don't offer benefits or health insurance.
So while Prokhorov could be on the verge of a huge payout from his initial investment in the Nets, the city of New York is looking at a return of 1,900 underemployed people and a basketball team that hasn't won 50 games or reached a conference final. No matter what former borough president Marty Markowitz would have you believe, the Russian billionaire and his business partner are the "true Brooklyn success story." 
This column does not necessarily reflect the opinion of Bloomberg View's editorial board or Bloomberg LP, its owners and investors.
To contact the author on this story:
Kavitha A. Davidson at kdavidson19@bloomberg.net
To contact the editor on this story:
Stacey Shick at sshick@bloomberg.net
Before it's here, it's on the Bloomberg Terminal.
LEARN MORE