Should the White House Be a Bunker?
In the early days of the republic, ordinary people could accost the president, even insult him
by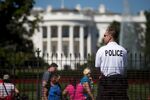 The resignation of Secret Service Director Julia Pierson is the most visible fallout from the Sept. 19 incident involving Omar Gonzalez, an Iraq War veteran who managed to jump the White House fence, sprint across the lawn, open the (unlocked!) front door, and get all the way to the so-called Green Room, deep within the iconic mansion.