Rocket's Fizzled IPO May Pop Europe's Tech Bubble
The two hot German tech IPOs, Zalando and Rocket, have fizzled in the first days of trading. Could that be the signal for a tech sell-off?
by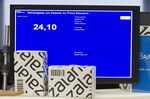 A reckoning may be imminent for hot Internet stocks. Germany hosted two major technology initial public offerings this week, from online retailer Zalando and start-up incubator Rocket Internet: Both are now trading below their initial prices.