Draghi Gets Defensive
With Naples rioting outside, ECB President Mario Draghi looked so discomfited at today's press conference, in which he offered a mixture of confession, evasion and threats to the assembled media. 
by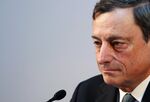 It probably seemed like a great idea when this year's European Central Bank timetable was drawn up. Take the monthly roadshow to Naples in October to emphasize to the good citizens of Italy that, hey, Frankfurt feels your economic pain. Instead, as many as 2,000 people marched on today's monetary-policy meeting, drawing riot police using tear gas and water cannons. It isn't exactly what the authors of the Maastricht Treaty had in mind.
No wonder ECB President Mario Draghi looked so discomfited at the news conference, in which he offered a mixture of confession, evasion and threats to the assembled media.
The threat was arguably the most important element. Draghi was pressed on whether the recently announced bank-lending program and the soon-to-fire bond-purchase experimentwill be enough to turbocharge an economic recovery that he himself described as "weak, fragile and uneven." After describing some of the efforts made so far, Draghi alluded to the bazooka in his briefcase should the current measures prove inadequate:
The governing council is unanimous in its commitment to using other non-conventional measures.
This hint, that full-scale quantitative easing might still be in the cards at some point, was a useful offset to his evasion about the current program. After repeating last month's intention about the ECB's balance sheet, to "steer it toward the size it had at the beginning of 2012," Draghi was asked to give financial markets some precision about the size, timing and longevity of balance-sheet expansion. He responded:
We've decided a massive amount of measures now, we haven't seen their impact yet. We expect to see the impact on the balance sheet in time. We do expect that our measures will have a sizeable impact.
The closest he got to hanging any numerical flesh on that vague skeleton was when he estimated the "potential universe" of asset-backed and covered bonds the ECB might buy starting this month at 1 trillion euros ($1.3 trillion). Anyone expecting that to mean that the current balance sheet of 2 trillion euros would become 3 trillion euros, though, was quickly deflated: "That doesn't mean, of course, that we will go into that amount," Draghi said. Investors responded by dumping European stocks and government bonds.
With Italian protesters threatening to scale the walls where the ECB was holed up, Draghi was asked whether there was a correlation between growing German antipathy to the euro and the extension of unconventional central-bank policies:
It's very understandable that people are euroskeptical because things are not going well, and in opposite directions. In this part of the world things are not going well because you have pervasive unemployment and weak economic activity and, in some countries, a recession that seems to never end. In other parts of Europe, they feel like people are paying for everybody else.
To the casual observer, that confessional tone might suggest the euro isn't working, and that the experiment in having monetary but not fiscal union, and a central bank setting a single interest-rate for multispeed economies, is a failure. Draghi, though, is as committed to the single currency project as ever. "The euro is irreversible," he stressed. Well, he would, wouldn't he?
It's interesting, though, that even with the ECB doing more and more to pump up the economy, and with European yields far below their debt-crisis levels, Draghi still feels the need to defend the euro. It seems to me that the president knows that his battle is far from over.
This column does not necessarily reflect the opinion of Bloomberg View's editorial board or Bloomberg LP, its owners and investors.
To contact the author on this story:
Mark Gilbert at magilbert@bloomberg.net
To contact the editor on this story:
James Greiff at jgreiff@bloomberg.net
Before it's here, it's on the Bloomberg Terminal.
LEARN MORE