Hong Kong's Umbrella Revolution Won't Spread
Chinese authorities are terrified of news about Hong Kong protests leaking into the mainland. Perhaps they shouldn't be.
by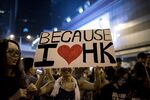 Are Hong Kong's pro-democracy protests contagious? The Chinese government, never one to take chances with such things, certainly isn't doing so now in dealing with the Umbrella Revolution. Since demonstrations first began to swell this past weekend, mainland authorities have clamped down on any references to Hong Kong in social media, blockedInstagram (the last major foreign social-media service to have an uncensored presence in China), and strictly regulated what mainstream news sites could say about events in the Chinese-ruled city. Yet despite these efforts, plenty of protest news seems to be leaking through.