The Senate Needs Rejuvenation
A surge of newly elected older senators means the average age in the chamber is 62, close to record levels. 
by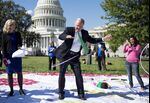 Could the Senate get younger?
Recent Senates have had plenty of turnover. The average tenure of senators at the beginning of this Congress was only 1.7 terms. At 62, however, the average age of the lawmakers has remained close to record levels, mainly because of a surge in newly elected older senators. In 2013, newcomers included Massachusetts Democrat Elizabeth Warren (63 when she was sworn in), Hawaii Democrat Mazie Hirono (65), Maine independent Angus King (67) and Nebraska Republican Deb Fischer (61). The average age of the new class of senators was a sprightly 53, on par with the previous Senate (52.1) and the one before that (57.1). In all cases, these new members were older than the first-termers of the previous two generations.
But for those of us who would like Congress to be a bit more demographically representative of the nation, there's a bit of hope in the incoming class . Yes, there are three probable winners in their 60s: Mike Rounds of South Dakota will be 60 in January, David Perdue of Georgia will be 65 and Shelley Moore Capito of West Virginia will be 61. Still, there could be several relative youngsters, such as Ben Sasse of Nebraska (who will be 42 in 2015) and James Lankford of Oklahoma (46). If Nate Silver's current favorites emerge victorious, there will be 13 new senators with an average age of about 50.
What's more, every one of the senators who are retiring is at least 60. The exception is Montana's John Walsh, the short-term replacement for Max Baucus, now 72, who was named ambassador to China. The vulnerable incumbents are more of a mixed bag when it comes to age, but the incoming group should be considerably younger than those they replace.
Of course, there are still plenty of unknowns. The average newcomer age will be higher if Tom Cotton (37) fails to unseat Mark Pryor of Arkansas, but it will be even lower if Alison Lundergan Grimes (36) pulls off an unlikely upset of Minority Leader Mitch McConnell in Kentucky. Nonetheless, the trend toward ever-older senators-elect seems to have halted, and perhaps even reversed a little.
I have nothing against older citizens serving in Congress, including people who are first elected in their 50s and 60s. However, when almost everyone is old enough to remember young Elvis, first-run "Leave it to Beaver," and the Brooklyn Dodgers and New York Giants competing for a National League pennant ... it's time to make room for other generations, too. I'd like a lot more politicians to reach the Senate before they turn 40. I'd even like to see senators in their 20s, and support changing the Constitution to allow it. There's a long way to go, but I'm glad the trend line is shifting a little.
This column does not necessarily reflect the opinion of Bloomberg View's editorial board or Bloomberg LP, its owners and investors.