So Derek Jeter's Starting a Blog
According to Jeter, he will work with other players and editors "to ultimately transform how athletes and newsmakers share information, bringing fans closer than ever to the games they love."
by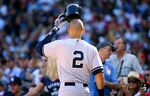 Derek Jeter's about to start spreadin' the news.
Fresh off his final game, the retired Yankees captain, known for his guarded public persona, has launched a website to directly connect athletes to their fans. In his inaugural post on the Players' Tribune, Jeter attributed much of his success to his ability to avoid media distractions, while acknowledging the desire of fans to better know their favorite athletes.
"I do think fans deserve more than 'no comments' or 'I don't knows.' Those simple answers have always stemmed from a genuine concern that any statement, any opinion or detail, might be distorted," he writes. "I'm not a robot. Neither are the other athletes who at times might seem unapproachable. We all have emotions. We just need to be sure our thoughts will come across the way we intend."
According to Jeter, he will work with other players and editors "to ultimately transform how athletes and newsmakers share information, bringing fans closer than ever to the games they love." The site will announce its next editor on Thursday.
On the one hand, this could be an incredibly innovative project. Athletes, both active and retired, have become more directly accessible through social media and guest blog posts, bypassing the middle-man of media to give their first-hand point of view. Richard Sherman has adeptly used Peter King's MMQB as a platform to answer critics in his own words, particularly those who called him a "thug." In a widely read Deadspin post, former Minnesota Vikings punter Chris Kluwe infamously accused his coach and front office of being "cowards and a bigot," believing he was fired for his outspoken support of marriage equality. And Kareem Abdul-Jabbar's wisdom is on full display over at Time magazine, where he continues to drop truth bombs on everything from racism to child-rearing.
Of course, giving athletes a direct line of communication to their fans often backfires (much to the amusement of the rest of us). Players can get into trouble for tweeting statements that are either offensive or misconstrued or downright confusing. As former NFL coach and current ESPN analyst Herm Edwards told a group of rookies a few years ago, the best way to avoid social media controversy is simply, "Don't press send." The risk of writing something rash in the heat of the moment or miswording something is diminished by the time it takes to conceive and execute a blog post and the fact that you have more than 140 characters to work with. But as any columnist would tell you, players need to be prepared for the kind of harsh backlash triggered by the expression of any opinion on the Internet.
There is also reason to be skeptical of this unique chance to gain some insight into players' minds. With the possibility that bad journalists might distort an athlete's message comes the near-certainty that agents and marketing professionals will, too. The Players' Tribune could very well become a one-stop shop for press releases, lending an air of false legitimacy and manufactured authenticity to ghostwritten pieces credited to athletes who don't really need another avenue to promote themselves.
I'm going to be optimistic: Jeter's well-written first post gives hope that the Players' Tribune will be an opportunity to democratize sports coverage, to clear up the increasingly blurred line between athletes and the reporters and pundits who cover them. If the project diminishes the exclusivity of access to athletes, elite sportswriters will lose at least some of the "insider" status that renders so many of them stooges. LeBron James won't have to go through Sports Illustrated to announce his next career move. At the very least, the Players' Tribune seems a much more appropriate outlet than Facebook for players to make major announcements, like Landon Donovan's retirement.
It is somewhat ironic that Jeter, who never truly let the press or his fans into his personal life, would create a forum to let the public peer into the thoughts and lives of fellow athletes. At a recent fan event in Manhattan, Jeter addressed his reticence to reveal any part of himself, acknowledging that he understands why fans would want to know more, and admitting that there are other public figures he'd similarly like to know better. Perhaps this blog is a sign that, in retirement, Derek Jeter isn't just a former player or a businessman or a potential media mogul -- he's now also Derek Jeter the fan.
This column does not necessarily reflect the opinion of Bloomberg View's editorial board or Bloomberg LP, its owners and investors.
To contact the author on this story:
Kavitha A. Davidson at kdavidson19@bloomberg.net
To contact the editor on this story:
Tobin Harshaw at tharshaw@bloomberg.net
Before it's here, it's on the Bloomberg Terminal.
LEARN MORE