David Cameron Doesn't Act Like He's Behind
The Conservatives may be trailing in the polls, but you wouldn't know it based on the confidence exuded by Tory leader David Cameron and in contrast to the reticence of Labour Party chief Ed Miliband.
by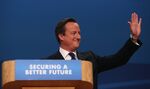 U.K. opinion polls suggest the Conservative Party should be dreading the May 2015 election while the Labour Party can start getting ready to return to office. The contrasting atmospheres at both party's annual conferences, however, tell a different tale.
The Conservative delegates started lining up at the conference hall doors at 7 a.m. today to bag seats for Prime Minister David Cameron's 11:30 a.m. speech, according to a security guard. About an hour before he was scheduled to begin, the auditorium was full, leaving even some Tory members of Parliament relying on television screens around the conference center to hear their leader. At Labour's conference last week, people were still drifting into empty seats 20 minutes before party leader Ed Miliband started his keynote address.
There's an air of confidence emanating from the Conservatives that belies their five-point deficit in the most recent YouGov poll, trailing with 31 percent to Labour's 36 percent and consistent with other surveys. There's a corresponding nervousness enveloping Labour, which knows that it should probably have a wider lead at this point in the election cycle against a government committed to austerity and arguing that the economy needs an additional 25 billion pounds ($41 billion) of spending cuts to eliminate the budget deficit by 2018.
The thrust of Miliband's speech last week was that the Tories only look out for "the millionaire who wants a tax cut." He used the word "together" more than 40 times in his effort to stress the inclusiveness of his future administration. On the housing market, for example, Miliband argued that "it's a few who have access while everybody else is locked out," and that those who can't afford a house were "priced out by the richest." By asking for two terms and outlining what he termed a 10-year plan, though, he blunted the force of his election pledges; doubling the number of first-time home buyers, introducing as many apprenticeships as there are university entrants, and halving the low-paid workforce are worthy commitments that lose their luster when the delivery date is a distant 2025.
Moreover, by committing his speech to memory and then forgetting key passages concerning the deficit, Miliband laid himself open to the charge leveled by Cameron today: "You cannot be prime minister of this country and forget the most important issue that we face."
Being the incumbent seems to be helping Cameron, sharpening the specificity of his electoral promises as he steals Labour's thunder in key policy areas: Abolishing taxes for those earning the minimum wage helps the low-paid and promising to build 100,000 homes for below-market prices for those left behind in the U.K. housing boom.
Cameron's master stroke, however, is aimed squarely at the relatively well-paid. Earning 41,500 pounds a year incurs a 40 percent income tax; by raising that threshold to 50,000 pounds, which is a bit less than double the average U.K. income of about 27,000 pounds, the Tory party can pitch a huge vote winner to the electorate. Labour can't frame the tax cut as benefiting the rich, as it could when the levy on earnings of more than 150,000 was reduced to 45 percent from 50 percent.
Labour looks and sounds like a team winning at half-time but not looking forward to the rest of the game. Contrast that with what seemed to be genuine anger in the speeches of both Cameron and his Chancellor of the Exchequer, George Osborne. Both parties are keen to portray the May 2015 contest as a two-horse race, even though Labour may lose seats to Scottish Nationalists and the Green Party, while the U.K. Independence Party is pitching to anti-European Union Tories. With about eight months to go, the election has the potential to be the most interesting for years.
This column does not necessarily reflect the opinion of Bloomberg View's editorial board or Bloomberg LP, its owners and investors.
To contact the author on this story:
Mark Gilbert at magilbert@bloomberg.net
To contact the editor on this story:
James Greiff at jgreiff@bloomberg.net
Before it's here, it's on the Bloomberg Terminal.
LEARN MORE