Will Republicans Bring Back the Filibuster?
A Republican majority in Senate may be tempted to reinstate 60-vote rule on nominations.
by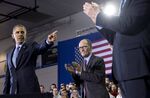 Eric Holder has announced his resignation and President Barack Obama needs a new attorney general. As Byron York notes, one option would be to nominate Secretary of Labor Thomas Perez and push for confirmation during the lame-duck session of Congress. Perez would probably be defeated by a party-line vote after the next Senate is seated in January, at least if Republicans win a majority. York is probably correct; Perez was confirmed for labor on a party-line vote.