Why EBay Is Freeing PayPal
Katie Benner explores what forced online retailer eBay to spin off its digital payments powerhouse, PayPal. Hint: Carl Icahn helped move things along.
by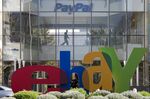 "We strongly believe that PayPal is more competitive, more agile and more successful when combined with eBay. We are better together. Everyone at PayPal is committed to remaining focused on driving innovation and creating the future of commerce."