Venezuelan Censorship Gets Creative
The country where drawing a cartoon can get you fired.
by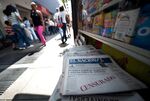 Illustrator Rayma Suprani recently got a phone call. Her editor was on the line and was brief. El Universal, Venezuela's century-old daily newspaper, where Suprani had worked for 19 years, winning prizes and delighting readers, would no longer require her services.