No, Shanghai Can't Replace Hong Kong
Some in China seem to think that businesses fleeing Hong Kong will just move to Shanghai, which the regime is trying to build up as a financial hub. In fact, they're likely to flee to Singapore.
by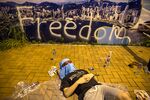 If there's any likely winner from China's unprecedented clampdown on Hong Kong, it's Singapore.