Is Modi India's Gipper?
India's Narendra Modi is often compared to America's arch-free-marketeer, Ronald Reagan. But the comparison is false, for reasons that should make investors worry. 
by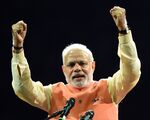 As a campaigner, Indian Prime Minister Narendra Modi has drawn comparisons to the man he met for dinner at the White House on Monday night: U.S. President Barack Obama. Both men are dramatic orators who make good use of their personal story in speeches. Both have exploited new technologies, especially social media, in the effort to rally grassroots supporters to donate and come out to vote.