I Paid Thom Yorke $6 and It Was Worth It
Thom Yorke nailed independent music distribution with his BitTorrent deal, but his previous experiment is more relevant to most musicians.
by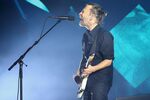 Radiohead singer and songwriter Thom Yorke has long wanted to find a way for musicians to distribute their work without intermediaries and still make money. His latest experiment involving BitTorrent, the company whose software is often used to share pirated content, works very well, in my experience. Spotify, however, has nothing to fear from it.