Do Americans Love War?
It may be that when they aren't being pressed by pollsters, most Americans just don't care much.
by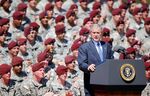 Americans are war-happy. That's the conclusion Kevin Drum draws from polls that suggest the bombing campaigns in Syria and Iraq are popular, and that a large minority would support a ground attack.