view
Prada Finds No Good Deed Goes Unpunished
Italy milks its fashion brands for taxes because they can't leave. Other investors can, and they should beware.
by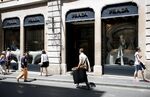 Fashion brands such as Prada, Armani or Bulgari are the embodiment of Italy for many people. The Italian government, however, mainly expects these companies to play the role of submissives in a sadistic tax game.
Take the most recent tax investigation against Miuccia Prada and her husband Patrizio Bertelli, Prada's chief executive officer. Italian fashion groups have expanded internationally in recent decades, and have moved their headquarters or main operating companies to countries with more lenient or more straightforward tax regimes. The Italian government hasn't taken kindly to this.
It has hounded Domenico Dolce and Stefano Gabbana for allegedly evading 200 million euros ($254 million) in taxes, and the duo received a suspended 18-month prison sentence in April, though the prosecutor had called for their acquittal. At the core of the dispute lay the transfer of Dolce & Gabbana brands to a Luxembourg company. The same month, Giorgio Armani paid 270 million euros to settle a tax dispute involving a Swiss subsidiary. Bulgari, the jewelry house beloved of Elizabeth Taylor, had its assets seized last year and was forced to pay 42 million euros to the Italian tax authorities. Ireland has been its preferred tax haven.
It was Prada's turn to pay up in December, when it announced that its holding company would repatriate assets it held in Luxembourg and the Netherlands. It also agreed to pay some back taxes as part of voluntary disclosure procedure. According to Prada's 2013 annual report, the company paid 66 million euros, but the Financial Times reports that Prada and Bertelli personally contributed 400 million euros. In any case, once the money landed in Italy's coffers, the husband and wife team appeared relieved. The newspaper Corriere della Sera quoted Bertelli as praising his company's "constructive relationship with the tax authorities, marked by mutual trust, which is essential to re-establish relations necessary for the country's recovery."
In January, the couple denied reports that they were under investigation by tax authorities as a result of their voluntary disclosure, hanging on to their idea of "mutual trust." The authorities, however, must have seen it differently, and Prada confirmed it was being investigated.
The probe wasn't initiated by Italian tax authorities, but by prosecutors from the Italian Judicial Authority. That doesn't make much difference to Prada and Bertelli, however: They had thought their old tax problems were settled. Salvatore Lampone, director of investigations at Italy's tax agency, even said so in January.
Relations between Italy's government agencies and the courts aren't easy to understand, nor is the country's ever-changing tax system. Prada, listed on the Hong Kong Stock Exchange, has had to issue a booklet for its investors explaining why it would have to withhold a 20 percent Italian tax from dividends, and why any share sales would be subject to Italian capital gains taxes. The booklet says, among other things, that Italy doesn't recognize the Hong Kong exchange as a regulated market and that investors would have to handle their Italian tax returns themselves, in Italian.
Faced with this kind of absurdity, other companies might have contemplated moving permanently out of Italy. There are cheaper countries in which to sew clothes or work leather, and the fashion houses' sales have long been international. Prada, for example, has stores in 70 countries. In the fashion business, however, much of the brand equity comes from intangible qualities such as spirit and heritage. It is important for the likes of Prada and Armani to hold on to their original stores in Milan and keep their connections to Italy. Tax exiles don't command the same respect, or prices.
The fashion houses are, in a sense, Italy's captives. But other companies and investors have a choice whether to believe Prime Minister Matteo Renzi's promises to change the convoluted tax system. The Prada case shows not much has changed so far.
To contact the author on this story:
Leonid Bershidsky at lbershidsky@bloomberg.net
Before it's here, it's on the Bloomberg Terminal.
LEARN MORE