You Can Stop Hating Derek Jeter Now
I'm removing my sportswriter hat for a moment, following Jay Z's last wish to "put my Yankee hat on." 
by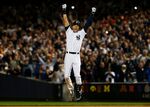 When Derek Jeter announced his retirement in February, I wrote a column that drew the ire of many fellow Yankees fans: "Now, can the Yankees finally get a shortstop with range?"
People wrote me accusing me of secretly hating the team. One reader symbolically revoked my fan-club membership. "I'm sure the Mets would be happy to have you," he wrote.
Hop on the Derek Jeter Polarizing Express: the hype machine that seeks to deify our beloved Captain but ultimately fuels the often-disproportionate backlash against him. I've grown weary of this recent wave of Jeter Haterade -- a term that takes on literal meaning after the Gatorade commercial that you could either view as a heartwarming tribute to the player and the fans who loved him or yet another example of how corporate America's tentacles have reached into every aspect of sports, tugging at our heartstrings in order to sell us drinks that look like biofuel.
The sportswriter in me completely understands the backlash, which rises tenfold with every additional piece of adulation, in part because of the team he played for, because of the city and the fans that have always had a superiority complex, deserved or not. A sportswriter I respect very much, Jonah Keri, does an exemplary job of breaking down Jeter's polarizing legacy, with the combination of stats and intangibles any good baseball discussion entails.
But I'm removing my sportswriter hat for a moment, following Jay Z's last wish to "put my Yankee hat on." The fan in me just wants to have a few days to mourn my captain in peace, to say farewell not just to the player, but to the era that defined my baseball fandom. For someof us, the moment Derek Jeter walked off the Yankee Stadium grass for the final time last night, he took our childhoods with him.
***
The first Yankee game I ever attended was in April 1996. I was seven years old, a daughter of Indian immigrants whose only knowledge of bats and balls came from cricket. My mother, a huge Knicks fan from her first days in New York, when Bernard was King, spurred my interest in sports, but it was a second-grade class trip to the Bronx that would change my life.
It's amazing the details one remembers. The Yankees played the Royals. Andy Pettitte started -- in fact, it was Andy Pettitte Bobblehead Day. (I still have that bobblehead.) The Yankees won 7-3. Putting all that together, it had to have been this game: Tuesday, April 9, 1996.
But what I remember the most -- what sucked me in to this magnificent game -- was that deafening, enveloping, overwhelming sound that the old Yankee Stadium made when it was rocking. I found it stunningly American, to have 57,000 people cheering for one singular cause, even if it was "just a game." And I haven't let go of that feeling since.
Nearly two decades later, my life and the lives of Yankees fans everywhere have changed a thousand times over. School, work, relationships, death, birth -- it's all part of what Indian culture terms the "impermanence of life." The one constant through it all? Derek Jeter.
Now, to me, Mariano Rivera will always be the face of the dynasty years. But for millions who don't share my affinity for the quiet superhero, Jeter is that guy. The Hairpin's Elizabeth Taddonio writes, "Derek Jeter saved my family," telling a very personal story of how those Yankees teams, and Jeter in particular, helped her through tumult and tragedy. I can certainly relate: Every time Jeter and the Yankees managed to stir up some of that ol' pinstriped magic, it made us feel like it was meant to be, that somehow there was some supernatural power rooting for us to win even when our lives were losing.
That's the beauty of Derek Jeter: His constant presence has allowed us to derive meaning from him as we see fit. Presidents have changed, buildings have fallen, wars have begun and ended, and somehow, Jeter has always been there, perhaps a reminder to my generation of a simpler time in the '90s, when the Yankees playing in the World Series was just a given, before we were old enough to care about PEDs or terrorism or the unemployment rate.
Mythologizing Jeter, ignoring his flaws and hoisting him on a pedestal, is a naïve act -- maybe the last shred of naiveté we're afforded until we have to truly confront our adulthood. It's a mentality that's melodramatic, silly, myopic, flawed, illogical, unimportant in the grand scheme of things -- everything sports is, and is supposed to be.
***
The recent spate of athletes doing terrible things, and fans excusing them because they're "really nice guys," demonstrates in an extreme way the pitfalls of deifying athletes. Fox Sports' Alex Goot extends this lesson to Jeter, noting the fallacy in thinking that any of us truly know public figures, especially athletes, and especially those as guarded as Jeter. It's unfair to compare the squeaky-clean Jeter to Ray Rice or Adrian Peterson, but the hero worship is one and the same.
But perhaps Jeter worship can be added to his list of contributions, albeit unknowingly. More than any other recent athlete, Jeter has inspired more skepticism and bar-side arguments in a sports world that can always use more cynics. And while his meaning to Yankee fans, both tangible and intangible, can never be truly quantified, he's also given an outlet to the many more fans of other teams who for so long had to put up with the endless national coverage of a baseball press that seemed to only care about New York.
With all the talk of who will succeed Jeter's mantle as the Face of Baseball, Jack Moore at The Hardball Times said it best: no one. And that's a good thing. Revenue-sharing and some Yankees front-office ineptitude have caused much more parity in the game, to the point you could turn on the television in October and see any number of teams still in it.
Meanwhile, the rise of regional sports networks and fan-specific sites like the SB Nation network have released smaller-market fans from the shackles of the national sports media, giving every fan the tailored coverage he or she deserves.
Major League Baseball's struggle to promote its superstars is a real problem, but the lack of a singular, monolithic player to represent the sport post-Jeter isn't. It's a sign of the times, of progress. It's an acknowledgment that despite the Yankee-promoted legend and Bud Selig's insistence, Jeter didn't actually represent all baseball fans everywhere.
***
And yet, magic and mythology happened once again Thursday night. It's impossible to ignore the clichéd way Jeter always seems to rise to the occasion. (Let alone that a non-home-run-hitter managed to drill one on the first pitch for his 3,000th hit in 2011.)  Like Ted Williams five decades earlier, Jeter had saved the best for last.
From his lead-off double that would eventually score the first Yankee run, to the walk-off single that would drive in the winning run of only the second meaningless game he's ever played, Jeter's script seems to always find a poetic justice.
The feeling at the Stadium was at once melancholy and celebratory, grateful and greedy, surprised as anyone could be at the moment he created but comforted by the feeling of "vintage Jeter."
 To my left was a fellow Millennial New Yorker; to my right were two women in their 80s; behind me was a couple in their mid-forties; in front of me, a family of four with two kids who couldn't have been older than eight. We all had one singular wish: just one more glimpse of that Yankee magic. And pure to form, the Captain delivered.
***
Baseball will be just fine after Derek Jeter. Nobody is bigger than this game. No, he's not the greatest player of all time, not even the greatest Yankee. Comparing players of past eras is always an exercise in futility, but objectively, Jeter ranks below Ruth, Gehrig, DiMaggio and Mantle.
Instead of ranking, it's more useful to think of Jeter in the overwrought but apt "Mount Rushmore of Yankees" metaphor. An aspect of rooting for the Yankees is that despite long stretches of futility and postseason drought, each era of greatness seems to transition rather seamlessly from one legend to another. Each generation has a "face" as it were, and Derek Jeter is undeniably ours. He might not be the GOAT, but for at least 20 years' of Yankees fans -- and even some non-Yankees fans -- he was whatever we wanted him to be.
When I think of my childhood, I think of: school bullies; a crippling fear of gym class; unfortunate denim; my parents on the brink of divorce; "Friends;" Sept. 11; my first kiss; getting into high school; getting into college; getting into trouble and calling it "senioritis" -- and Derek Jeter.
Now I'm an adult, doing the very adult thing of looking to the future. I'm wondering if Masahiro Tanaka can be the ace we so desperately need. I'm hoping that Dellin Betances can fill the hole, bigger than Jeter's, left by Rivera. I'm calculating how many rebuilding years we might have to trudge through to once again boast an elite farm system.
But as is the nature of baseball, and particularly Yankee fandom, we may look forward while always keeping an eye on the past. And until the next generation of Yankee fans spring up, Derek Jeter will always be squarely in that rear-view mirror.
Thanks for the memories, Cap.