The Misguided Rush to Raise Rates

Mark Gilbert is a Bloomberg View columnist and writes editorials on economics, finance and politics. He was London bureau chief for Bloomberg News and is the author of "Complicit: How Greed and Collusion Made the Credit Crisis Unstoppable."
Read More.
The Bank of England is tiptoeing toward an interest-rate increase, itching to reset monetary policy from its current crisis state yet understandably wary of snuffing out the U.K.'s nascent economic recovery. Policy makers, though, should beware raising borrowing costs for philosophical rather than financial reasons.
Monetary Policy Committee member David Miles rather gave the game away earlier this month, describing to Parliament's Treasury Select Committee "the welcome path to a more normal setting for monetary policy" that might be in the offing. It's understandable that the inflation-targeting guardians of British financial stability are jittery after keeping rates on hold with not even a tweak since March 2009; higher borrowing costs, however, should never be a "welcome" event.
Two key economic measures should keep the central bank watching and waiting, even though two of its nine members have twice voted to raise the benchmark interest rate to 0.75 percent from its current record low of 0.5 percent. The U.K. housing market, which has roared ahead on low lending rates, isstarting to cool. And wages, a key determinant of consumer confidence, remain stagnant at best.
This month, London house prices posted their first decline in almost two years, dropping 0.1 percent, according to figures today from Hometrack Ltd., which surveys realtors. The capital is "experiencing a pronounced slowdown" compared with the rest of the U.K., Hometrack said. The threat of higher mortgage rates has conspired with tougher mortgage rules to halt an escalation in London values of more than 20 percent in the past year.
It's wages, though, that are the key obstacle to higher borrowing costs. When salaries are growing by just 0.6 percent, while annual inflation is 1.5 percent, making people pay more on their mortgages, credit cards and car loans could prove disastrous: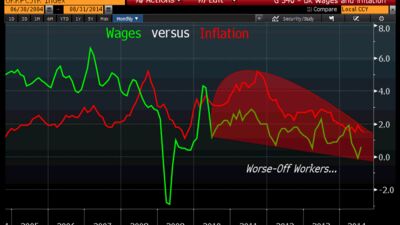 Here's what central bank Governor Mark Carney had to say yesterday:
With many of the conditions for the economy to normalize now met, the point at which interest rates also begin to normalize is getting closer. While there is always uncertainty about the future, you can expect interest rates to begin to increase.
While he's right that many of the conditions necessary for higher borrowing costs are in place, it's still not clear that rates need to rise. These are not normal economic times.
This column does not necessarily reflect the opinion of Bloomberg View's editorial board or Bloomberg LP, its owners and investors.
To contact the author on this story:
Mark Gilbert at magilbert@bloomberg.net
To contact the editor on this story:
Mary Duenwald at mduenwald@bloomberg.net