The Misguided Rush to Raise Rates
These are still not normal economic times, and the philosophical temptation to imagine some normal cost-of-money environment that central banks should rushing toward is a falsehood.
by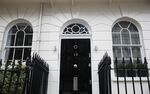 The Bank of England is tiptoeing toward an interest-rate increase, itching to reset monetary policy from its current crisis state yet understandably wary of snuffing out the U.K.'s nascent economic recovery. Policy makers, though, should beware raising borrowing costs for philosophical rather than financial reasons.