Shellshock Beats Bendgate as Apple Threat
Shellshock, the major open source software vulnerability, shows big corporations such as Apple must invest in the foundations on which their software is built.
by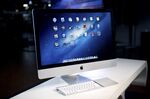 For many years, Apple Macintosh and Linux computers were considered to be safer from malicious intervention than Windows machines. That seems to have been an illusion. A piece of software powering those flavors of personal computers and Web servers has a serious vulnerability, without a quick fix. It's a wake-up call to big companies that embed kernels of other people's work in their software that they need to do more to support the open source coding movement and keep it healthy.