Secret Fed Tapes Recorded Goldman's Capital Game
What was Goldman up to with Santander that set off the New York Fed supervisors? Collapsing mandatory exchangeables, seems to be the answer.
by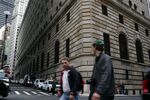 The New York Fed/Goldman Sachs secret tapes are the sort of thing where you'll mostly get out of them what you bring to them, so it's sort of pointless for me to tell you what to think. 1 (Do read/listen to the story though! It's fascinating, whatever your priors.)
Instead I'll just tell you what I bring to the story, which is that I used to sell corporate equity derivatives. 2 So I was intrigued by this:
On Friday, Jan. 6, 2012, at 3:54 p.m., a senior Goldman official sent an email to the on-site Fed regulators - including Silva, Segarra and Segarra's legal and compliance manager, Johnathon Kim. Goldman wanted to notify them about a fast-moving transaction with a large Spanish bank, Banco Santander. Spanish regulators had signed off on the deal, but Goldman was reaching out to its own regulators to see whether they had any questions.

At the time, European banks were shaky, particularly the Spanish ones. To shore up confidence, the European Banking Authority was demanding that banks hold more capital to offset potential future losses. Meeting these capital requirements was at the heart of the Goldman-Santander transaction.

Under the deal, Santander transferred some of the shares it held in its Brazilian subsidiary to Goldman. This effectively reduced the amount of capital Santander needed. In exchange for a fee from Santander, Goldman would hold on to the shares for a few years and then return them. The deal would help Santander announce that it had reached its proper capital ratio six months ahead of the deadline.

In the recordings, one New York Fed employee compared it to Goldman "getting paid to watch a briefcase." Silva states that the fee was $40 million and that potentially hundreds of millions more could be made from trading on the large number of shares Goldman would hold.
What is going on here? Well, here is what Santander said on Jan. 9, 2012:
Santander reached in December 2011 an agreement (implemented during the first week of 2012) to transfer 4.41% of Santander Brazil to a major international financial institution who will deliver such shares to holders of convertible bonds issued in October, 2010, by Banco Santander, when these mature, pursuant to the terms of said convertible bonds.

That's part of a press release announcing that Santander had reached a 9 percent core capital ratio ahead of the European Banking Authority's deadline by raising some 15 billion euros of capital, some of it from this transaction. Here's Banco Santander Brasil's announcement of the trade at the same time. And here's the announcement of those convertible (really exchangeable 3 ) bonds in October 2010.
The trade starts with those bonds. These are only sort of bonds. There were $2.8 billion of them, $2.7 billion of which were sold to Qatar Holding. They carried a 6.75 percent coupon and matured in October 2013. On maturity, they just converted automatically into a fixed number of shares of Santander Brasil, which was (and is) a public company in Brazil of which Santander was (and is) a majority owner. So Qatar gave Santander money, and Santander paid interest on it for three years, but Santander never had to pay it back. Instead it would just give Qatar some shares it owned in its Brazilian subsidiary.
Here is a Bloomberg News story from the time the bonds were sold. Effectively, Santander just sold Qatar a chunk of its Brazilian subsidiary, at a small discount to the market price, 4 and paid Qatar $184 million a year for three years for buying the stock. Why would Santander do this? It's a bit weird; you could just sell Qatar the stock. I don't really know the answer; two possibilities are:
It was an economics/optics decision: The Qataris wanted a big discount to buy the stake, and Santander would rather pay them $184 million a year for three years in "interest" than give them a $500 million discount on the share price, because selling shares at a 20 percent discount looks bad to the rest of your shareholders.

Santander wanted to "own" the Santander Brasil shares for an extra three years, while having the economic effect of having sold them to the Qataris. I don't know why that would matter; even after the sale, Santander owned more than 75 percent of Santander Brasil. Perhaps it's tax-related. 5
Anyway, Santander didn't just sell the stock in its subsidiary. If it had, it would have raised $2.8 billion of regulatory capital. Selling equity for cash pretty straightforwardly raises capital. Instead, though, it did this thing that is economically identical (ish) to selling the stock for cash. So, economically, it should have raised capital. Everyone figured it would raise capital. Again, the Bloomberg News story at the time:
Madrid-traded Santander shares rose today as investors speculated the sale may reduce the likelihood of a capital increase, according to Daragh Quinn, an analyst at Nomura International Plc in London.
"The market's conclusion will be that the more they strengthen group capital, the less likely it is that they will have to consider a capital increase."
But the investors were wrong! Sort of. What happened is that the European Banking Authority did a capital exercise in 2011, a year after these things were issued. In that exercise, the EBA decided that all of the big banks needed to have 9 percent core tier 1 capital, and did not count "hybrid instruments" such as these weird bonds. So if you look at Santander's results on that exercise, it had a 12.9 billion euro capital shortfall (15.3 billion with a "sovereign capital buffer" that doesn't concern us here), but an extra 12.8 billion euros of "hybrid instruments." The problem is that this thing that counted as capital no longer counted as the right kind of capital for the latest set of regulatory tests. There's a bright yellow line, and these things fall below it:
The EBA announced those results in December 2011, and a couple of weeks later Santander had solved the problem. There's an obvious simple solution to the Santander Brasil portion of the problem: Collapse the exchangeable bonds, give Qatar the shares, and poof, they are no longer "hybrids," they are common equity capital. But the Qataris were getting $184 million a year in interest. Why would they give that up? So the simple solution didn't happen.
Instead Santander went with the Goldman solution. The idea seems to have been:
Santander gives Goldman the Santander Brasil shares underlying the exchangeable bonds.
Goldman agrees to pay off the exchangeable bonds at maturity (with the shares it just got).
Santander no longer has any obligation to pay off the exchangeables at maturity, so they're no longer hybrids for capital purpose. It's sold the shares! They're common equity now. 6

Therefore it can move this transaction above the yellow line and get credit for it as part of the 9 percent core tier 1 capital.
The exact mechanics are murky to me, but that's the gist. 7 And you can see why the Fed supervisors said that Goldman was paid to watch a briefcase. Santander gave it some shares that it had already promised to the Qataris. Goldman's only job was to take the shares and deliver them to the Qataris in a year. There was little risk and no economics. For this, Goldman was paid $40 million. 8
On the other hand, "Spanish regulators had signed off on the deal." And why shouldn't they? The thing is:
Before this deal, Santander had received cash (from Qatar), and agreed to sell common shares (to Qatar), but wasn't getting capital credit from its regulators.
After this deal, Santander had received cash (from Qatar), and agreed to sell common shares (to Qatar), and was getting capital credit from its regulators, and Goldman was floating around vaguely getting $40 million.

Goldman's vague floaty intervention had little or no economic substance, but flipped the switch from "regulators don't give capital credit" to "regulators give capital credit." One thing you might care about is: Which was the right answer? There are certainly people who think that anything other than actually issued common equity should get zero capital credit, but I am not one of them. To me, a deal where Santander gets cash in exchange solely for an obligation to issue a fixed number of shares of common stock is an equity deal, and should get capital credit. So Goldman just helped Santander and its regulators get to the right answer.
That doesn't mean it's okay though. You could readily object that it's sort of a bad idea for a bank to do something with little or no economic substance just to satisfy regulatory requirements. That was the Fed supervisor's view:
Silva did not like the transaction. He acknowledged it appeared to be "perfectly legal" but thought it was bad to help Santander appear healthier than it might actually be.

"It's pretty apparent when you think this thing through that it's basically window dressing that's designed to help Banco Santander artificially enhance its capital position," he told his team before a big meeting on the topic with Goldman executives.
It's silly to get hung up on whether this made Santander "appear healthier than it might actually be," or whether it "artificially" enhanced Santander's capital. 9 There is no actual health. There is no natural capital. These are all abstract, artificial constructs, and regulators just get to decide what should count as capital. I think Santander's exchangeables should have counted as capital with or without the Goldman window-dressing. You might think they shouldn't have counted either way. The Spanish regulators counted them with the dressing but not without. None of this is real or natural. It's just a game, and there are rules, and the regulators set them, and then the banks get to play. And Goldman helped Santander win.
Or ... wait. Is that not how it's supposed to go? One conclusion you might draw from the tapes is that the regulators and the banks had a very different conception of what social practice they were engaged in. Goldman was helping Santander play a game against its regulators, while the New York Fed just wanted to be friends with Goldman and not make too much trouble. It certainly makes it easier to win a game if the other side doesn't know it's playing.
To contact the author on this story:
Matthew S Levine at mlevine51@bloomberg.net
To contact the editor on this story:
Toby Harshaw at tharshaw@bloomberg.net
Before it's here, it's on the Bloomberg Terminal.
LEARN MORE