Housing's New Wealth Effect
Two housing data reports this week -- one showing things heating up, the other a slowdown -- don't offer the best insights into the state of the market.
by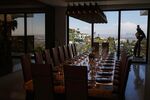 It was a busy week for housing market reports. The U.S. Census published its new home-sales results for August, showing an 18 percent gain from the prior month and a 33 percent increase from August 2013. News headlines relied on words such as "surged" and "soared" to describe the results.