Falling Out of Love With Gold
Gold may be losing favor among investors, but it still has a place in any investment portfolio.
by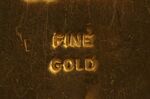 Gold has let down its loyal investors during the past year, declining by about 8 percent. It has failed to benefit, as one might expect, from a series of geopolitical crises and concerns that stocks are overvalued. It has even failed to keep up with government bonds, usually the other recipient of flight-to-quality trades. Moreover, it has responded weakly to the excitement in India -- its biggest physical retail market --– over the prospects for economic reforms under newly elected Prime Minister Narendra Modi.